Folding Glass Wall Installation Chicago | Chicago Sliding Glass Walls
Glass Installation Chicago, IL
Commercial Glass Wall Installation Experts | Sliding Glass Walls Near Chicago
With so much time, sweat, and effort put into this training by our outstanding Chicago Galron sliding glass doors and folding glass installation experts, we've built a selection of tested and aesthetically pleasing folding glass barriers. No matter the size glass panel or the needs of the area, Galron's techniques are tailor-made to meet the individual requirements of both residential and commercial structures.
Discover the impact that Galron folding specialty glass walls can make in any environment. The folding glass wall methods offered by our Galron Chicago experts are engineered and built by hand.
We provide some of the fastest commercial and residential services in the area to ensure your interior glass walls are installed properly. Our call center is ready to take your call 24 hours a day/ 7 days a week. Schedule Today!
What Is A Folding Glass Wall Design?
Folding glass walls are known by various design names, including bifold glass doors, glass accordion doors, and folding glass doors. Galron recommends everyone get one installed because everyone loves to make their image view larger and better. We named our commercial and residential product line folding glass walls to correctly characterize its performance and purpose. Each panel of the glass folding doors is connected to the others and folds as the door is opened; they all operate along a single track. Folding glass walls aluminum framed are energy-efficient and provide vast, unobstructed apertures unrestricted by the fixed glass panels of a conventional slider. From am to pm, we're always by the phone waiting to assist our customers with all of their commercial and residential glass wall concerns. Having a properly installed glass wall brings along that great glass walls view providing your ideal look with the minimal sliding glass amount.
How Much Do Glass Walls Cost?
On average, it'll cost roughly $480 per linear foot to give your interior and exterior home a high-end look and feel with glass walls. However, depending on the project design specifications, you should anticipate paying between $240 and $2,200 per linear foot. Labor rates will range from $35 to $150 per hour.
The precise ballpark you'll be in for this project is determined by the project's size, your geographical location, the placement of your wall, and the project's intricacy.
How Much Do Glass Walls Cost in Your Area?
The cost of installing glass windows will vary depending on whether or not it's commercial or residential, where you live. Let's have a look at the average ranges of what you may expect per linear foot for this project in a few major areas:
Los Angeles: $830–$1,100

Miami: $660–$890

Chicago: $870–$1,200

Augusta, ME: $740–$1,000

Saint Paul, MN: $870–$1,200

Philadelphia: $880–$1,200

Austin, TX: $700–$940

Salt Lake City: $700–$950
An interior glass wall offers structural support to your property, so make no small mistakes. So, unless you're very skilled and certified (as this is your field of business), we recommend you leave this project to the Galron professionals. From AM to PM we're always on call and ready for any project put on our plates!

The Cost By Type?
Glass barriers are not one-size-fits-all. In truth, there are numerous varieties of glass walls including folding glass walls sliding glass walls Interior aluminum framed barriers, glass barn doors, frameless glass walls, and more, that can be installed, each with its own set of costs.
Glass Curtain Cost
A glass curtain wall design installation will cost between $200 and $600 per linear foot. While not load-bearing, these walls are usually part of a wall system and contain a lightweight metal frame, such as aluminum. This means they must be carefully installed alongside their nearby structural components.
It is vital to note that because these walls are not load-bearing, they cannot be used to replace a load-bearing wall. As a result, you'll need to consult with your contractor before installing these glass walls to determine where they can be installed in your home.
Window Wall Price
Window walls are constructed to order and can be framed or frameless. Window wall installation costs $700 to $1,600 per linear foot.
Cost of a Sliding Glass Wall
A sliding glass wall, also known as a sliding glass or patio door depending on the use, is made up of two panels, one immovable and the other moving. They are made of impact-resistant glass, which allows them to provide more energy-saving insulation while keeping a strong wall. On average, a sliding glass wall costs between $1,100 and 3,000 dollars.
Cost of Folding Glass
Folding glass walls are made up of numerous panels joined by hinges. This design is similar to an accordion and folds open or closed along a track to provide an open perspective. The cost of installing a folding glass wall ranges from $800 to $1,200 per linear foot, with the ultimate cost depending on the number of panels desired as well as the kind and polish of the glass.
Glass Room Divider Price
A glass room divider is simple to install. Each chamber is divided by glass. Glass room dividers typically cost roughly $90 per linear foot.
Cost of an Exterior Glass Wall
To ensure safety, outside glass walls are load-bearing and meet building requirements. The cost of installing this type of glass wall is between $15 and $60 per square foot.
Our Chicagoland experts at Galron Sliding Doors appreciate the allure of tackling a large-scale project on your own, but hiring a Chicago professional is safer. Furthermore, if it is not installed correctly, it may cost you more in the long run, and your warranty may not cover installations that were not performed by a folding glass walls Chicago expert.
Galron Sliding Glass Door | Folding Glass Wall Types
The folding glass wall installations offered by our Chicago Galron firm are available in aluminum-framed, solid-wood-framed, solid-wood aluminum-clad, and frameless configurations. The panels may be suspended from the ceiling or supported from the floor in inward or outward opening configurations. Our methods are designed with a specific goal in mind. Our unique product solutions give you more alternatives for transforming your environment with a Galron Chicago installation, replacement, or repair.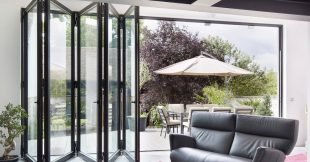 Aluminum Framed
The aluminum-framed folding glass door panels manufactured by Galron are designed for durability. Each aluminum frame is powder coated or anodized to withstand exposure to the elements. Powder coating gives a robust and long-lasting finish that requires minimum upkeep. Double gaskets give protection from the elements. Explore the Galron folding glass walls and doors with aluminum frames.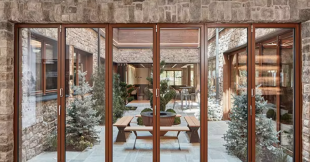 Wood Framed
The folding glass walls of Galron are encased with solid, natural wood. Where others may accept veneers, we offer the best quality materials custom-designed to complement any architectural style. Choose from the conventional wood alternatives of Sapeli Mahogany, Pine, Spruce, Meranti, and Western Hemlock, or peruse the assortment of unusual woods. Each system is subjected to an eco-friendly water-based pretreatment. Learn more about all available options for wood panels.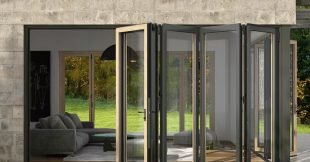 Aluminum Clad
The aluminum-clad sliding glass walls have two functions. The warmth of a wood interior is combined with the durability and performance of an aluminum exterior in this folding glass door system. This folding glass wall technology is suitable for residential projects. Investigate this very unique structure.
Frameless
The most ideal and stunning open space sightlines are created by frameless folding glass wall constructions. These single-glazed systems are top-hung with aluminum top and bottom rails, but there are no stiles. Examine the various options and adjustable features.
Call Galron Sliding Doors Chicago today to schedule an appointment and get a Free quote.
Hear From Our Most Recent Customers
Galron Glass Wall Service Chicago Area
We serve residential & commercial sliding door customers throughout the entire Chicagoland area.
Chicago is the most populous city in the United States, and the third-most populous city in the world, after New York City and Los Angeles. It is also the most populated city in the Midwestern United States and the fifth-most populous city in North America, with a population of 2,746,388 according to the 2020 census. Chicago is the county seat of Cook County, the second-most populated county in the United States, and the main city of the Chicago metropolitan area. It is one of the world's 40 largest cities.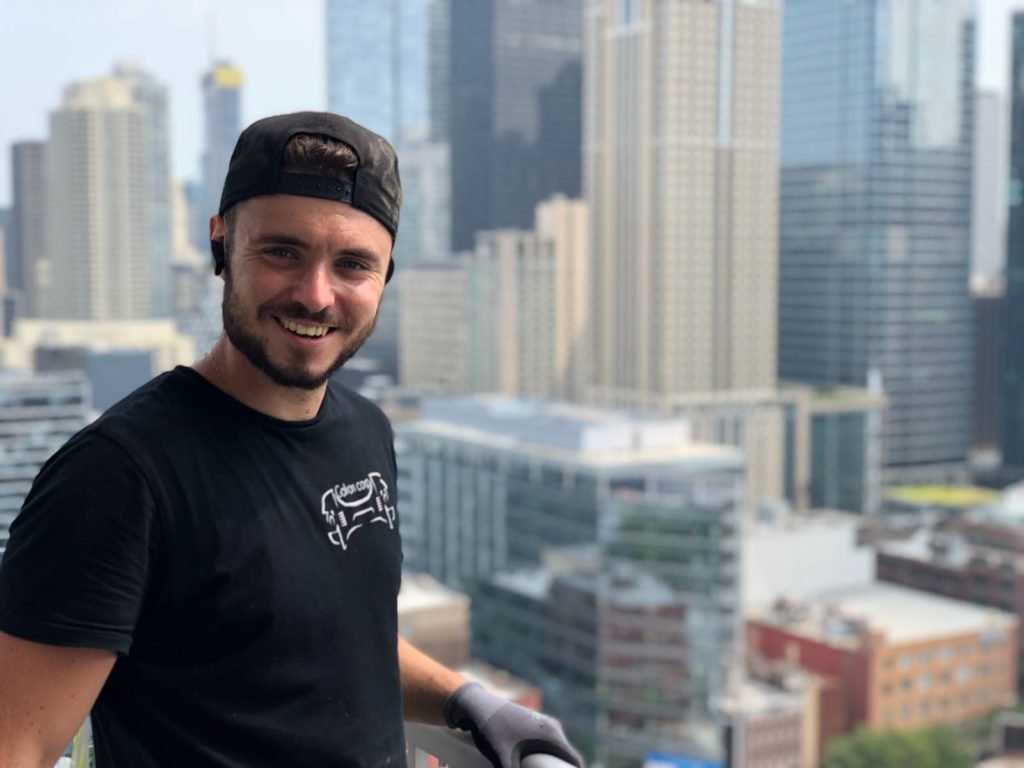 Ron's quality of work and business relationships are influenced by his commanding military background and his conviction to serve his technicians and customers like they are family. His work ethic stems from the principle that the military taught him, "sleep less, work more." It is that work ethic that has caused him to visit every single project over the last seven years, to make sure that every project was done the right way and that the client is happy and satisfied.
Glass Wall Installation Chicago
We appreciate the allure of tackling a large-scale project on your own, but hiring a Chicago professional is safer. Furthermore, if it is not installed correctly, it may cost you more in the long run, and your warranty may not cover installations that were not performed by an expert.
Everyone adores their lovely, light-filled, larger image view folding glass walls and sliding doors! Even the best folding glass walls require maintenance from time to time. Dirt and debris accumulation, misaligned patio doors, warped or worn tracks, broken or cracked glass, or latch and handle failures are all frequent concerns that can be resolved quickly by Galron Sliding Door Installation and repair specialists. Our experienced technicians will swiftly and efficiently repair or replace any damaged or broken folding glass wall or sliding door.
We guarantee a quick analysis of the folding glass wall issue, on-san ite quote, and immediate installation and repairs. Our inspections are thorough, so you can rest easy knowing that no surprise issues will pop up after we leave.
Contact us today for a free quote to fix your folding glass wall:
Want a Free Estimate?​
Call Galron Sliding Doors Now!