Andersen Sliding Glass Door Installation Services
Andersen Sliding Glass Door Installation Experts
Sliding windows & glass door installation in Chicago is all we do! Galron Sliding Doors is a team of gliding door & patio door replacement and installation Chicago experts servicing Chicago and all of West Suburbs. If you are looking for patio doors, sliding doors, or a local renewal By Andersen sliding glass door company installing doors and windows near you, we believe you have found the best sliding door solutions and installation experts!
As Chicago homeowners sliding glass door go-to company, we understand the magnitude of the decision to improve your house from windows to doors. We will look after your vision as if it were our own and service your home as if it were our own. Give yourself the gift of tranquility by contacting our staff; ask your questions, get knowledge, and expect the best from your Andersen sliding door installation specialists.
Are you prepared to discuss your Andersen door or windows installation near me? Likewise; contact our windows and doors experts immediately. We provide some of the fastest Andersen installation services in the area with our Renewal By Andersen patio door hardware to ensure your sliding door is installed. Our call center is ready to take your call 24 hours a day/ 7 days a week. Schedule Your Renewal By Andersen Patio Door Installation Services Today for windows and doors installation!
Patio Door Options
Here is some additional Renewal By Andersen options available for you to choose from when choosing replacement windows for your home as well as patio doors! 
WINDOWS FROM RENEWAL BY ANDERSEN | SHOP WINDOWS
Gliding Andersen windows (sometimes referred to as sliding great plains windows) open horizontally from one or both sides and provide great ventilation and the largest viewing area of all our movable or gliding windows. They are a fantastic choice for egress windows or rooms that face sidewalks or porches, and their easy-to-clean lift-out sashes are a bonus to their windows. 
HINGED FRENCHWOOD PATIO DOOR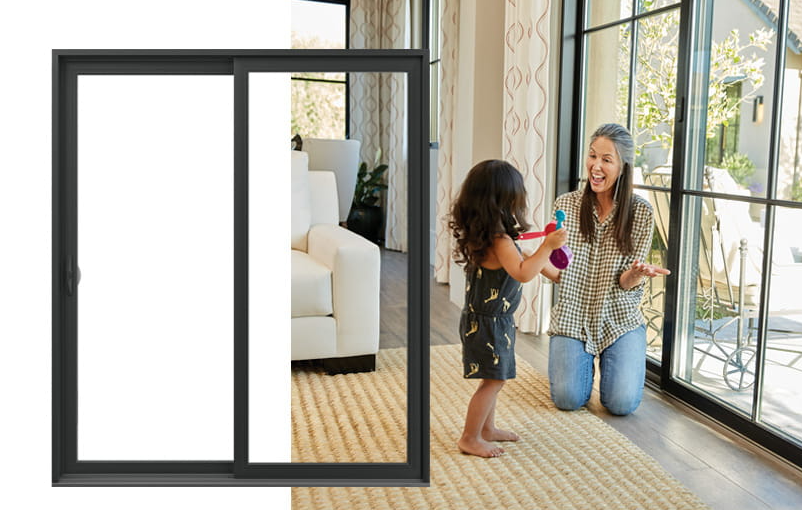 This Andersen classic combines traditional workmanship with current energy-efficient technologies. Frenchwood® hinged french patio doors provide a classy appearance, soft natural light, and increased house value. Both in-swing and out-swing layouts are available.
PATIO DOOR SCREENS
For double-panel, hinged, and sliding patio doors entry, sliding bug screens are offered. There are retractable Andersen bug screens available for all types of patio sliding doors. Doors placed on Frenchwood outswing patio doors are exclusively installed on the interior. We also offer storm door services!
What's The Cost By Andersen To Install Sliding Doors & Windows?
Depending on where you reside, a professional sliding glass door & window installer will charge $40 to $50 per hour for labor. Installation fees for Andersen replacement doors & windows account for roughly 30 percent of the overall price. The installer must remove the old window, install the new window, wrap the outer trim, and clean the area. These Andersen windows patio doors and sliding glass doors are designed with a specific window design tool.
Additionally, there are additional cost concerns to consider when shopping with Renewal by Andersen or Andersen Windows. If the sliding french door installation is rapid and there are no problems, the installation cost will be reduced. If you need to install doors or windows on the second or third floor of your home, expect to pay an additional 40 to 50 percent for the installation, as it is significantly more complex and time-consuming.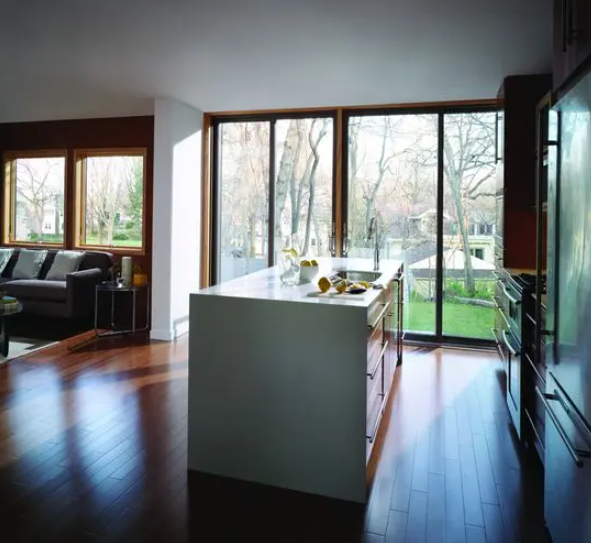 Renewal By Andersen |  Andersen Replacement Doors vs New Construction Doors
New construction Andersen hinged patio doors necessitate the construction of a frame, whereas Andersen replacement doors are installed into an existing frame, making installation far less expensive. The typical cost to frame a standard-sized sliding door ranges between $850 and $950 Framing larger doors can cost $1,000-2,000+ Depending on the extent of the job, door trim repair can cost $250 to $1,100.
Moreover, if your home was constructed prior to 1978, it is likely to have lead paint. And if that is the case, the Renewal by Andersen installer or our experts will charge you more for having to safeguard your family. Depending on the complexity of work and accessibility concerns, the average cost to remove lead paint ranges from $8 to $15 per square foot.
Andersen Hinged Patio Doors | 
WHY SLIDE MODERN PATIO DOORS?
Simple Management – Even in the harshest settings, dual ball-bearing rollers, self-contained leveling adjustments, and climate-neutral performance provide simple operation.
Convenience – The Andersen frame is encased in a strong vinyl sheath for longevity and little upkeep.
Peace Of Mind – Multiple locking points and a solid, secure structure provide an additional level of security.
Security – Continuous weather-stripping and interlocking design elements help to eliminate drafts and save energy in the home.
Versatility – Available in single-panel and multiple-panel combinations, as well as bespoke sizes. Stainable pine interior (Narroline). Multiple grilles, color, and hardware options allow for practically any style to be accommodated.
Our Sliding Glass Door Repair Services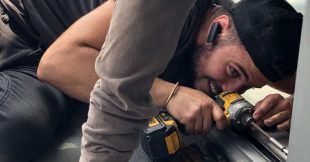 Sliding Glass Door Repair
We service all sliding glass door repairs including roller repair, track repair, off track doors, latches, handles and more. ​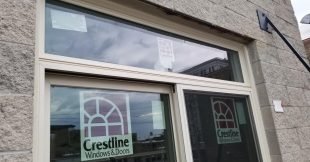 Sliding Glass Door Replacement
We install new sliding doors and replace old patio doors. We carry all major sliding glass door brands for replacement.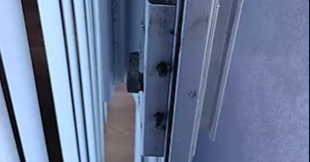 Lock / Handle Replacement
We service all sliding patio door repairs including roller repair, track repair, off track doors, latches, handles and more.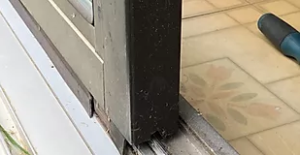 Track Repair / Replacement
Often, the issue with sliding glass door is not the rollers, but the track. It may need to be cleaned, adjusted or replaced.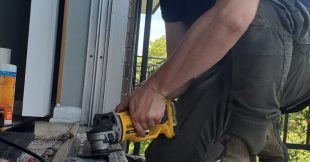 Roller Repair / Replacement
We service all sliding door repairs including roller repair, track repair, off track doors, latches, handles and more.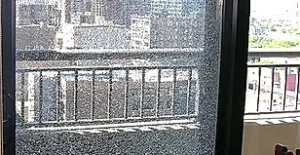 Glass Replacement
Whether your sliding patio door has a crack, shattered, or has moisture between the panes, we can fix it by replacing the glass door.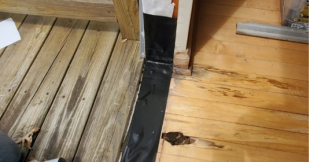 Patio Door Water Proofing
Do you have water leaking through your patio or balcony sliding door? Galron Sliding Doors will waterproof your door to prevent further water damage.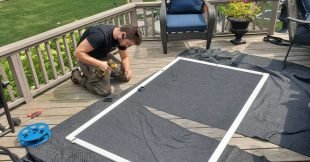 Sliding Screen Door Replacement
Whether your patio screen door needs servicing, is ripped, or needs to be re-screened, Galron handles it all. We service all sliding screen door sizes.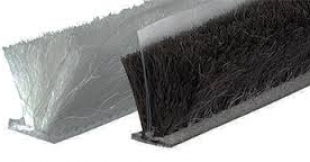 Patio Door Air Draft Repair
Do you have air coming into your home through your patio or balcony sliding door? Galron will secure your door and improve energy efficiency in your home.
Hear From Our Most Recent Customers
Galron Patio Door Service Area
We serve residential & commercial sliding door customers throughout the entire Chicago Metro area.
Galron Sliding Door services the following neighborhoods within Lisle zip codes of 60532, 60563, 60572 in Alma-Canterbury, Arboretum Woods, Arbor Ridge, Arbor Trails, Beau Bien, Goodrich East, Green Trails, Hidden Lake, Huntington, Lacey Ave, Lisle North West, McKenzie, Naperville Country Estates, North Naperville, Oak Hill, Peachcreek, Pine Hill, River Bend, Tate Woods,The Meadows, Villas of Versailles and more.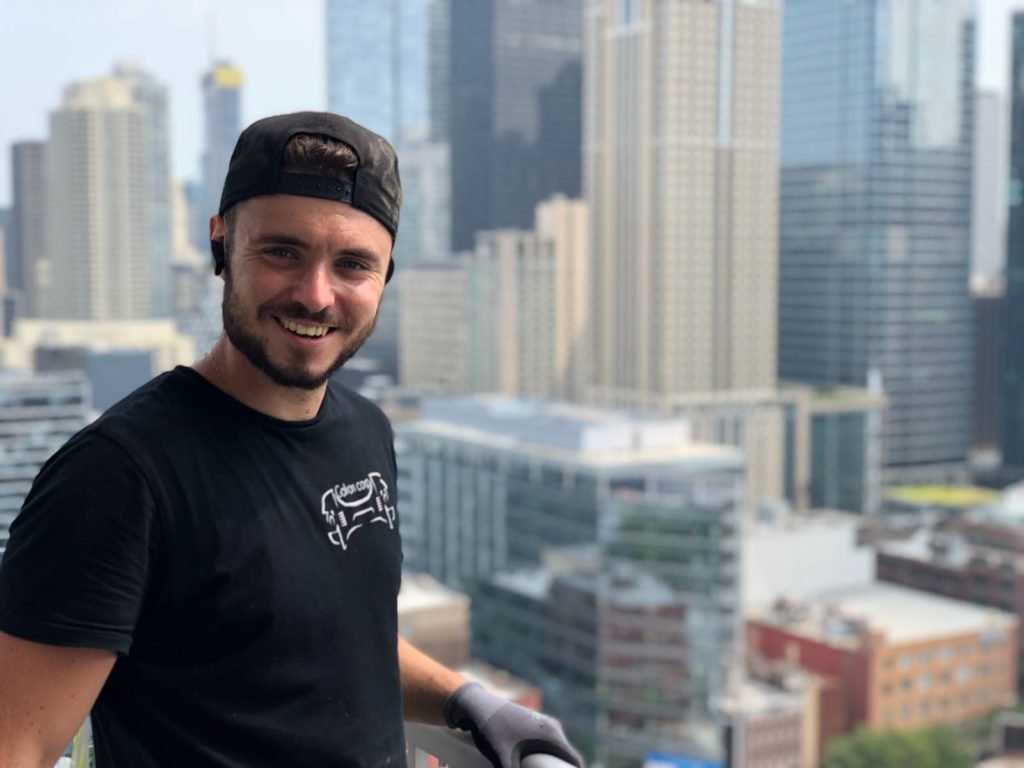 Ron's quality of work and business relationships are influenced by his commanding military background and his conviction to serve his technicians and customers like they are family. His work ethic stems from the principle that the military taught him, "sleep less, work more." It is that work ethic that has caused him to visit every single project over the last seven years, to make sure that every project was done the right way and that the client is happy and satisfied.
Andersen Sliding Door Installation Chicago Service
Galron Sliding Glass Door Installation, we have been servicing customers in the Greater Chicago Area for over a decade helping them with their patio doors!  We are a name you can trust for all of your patio doors, windows, and sliding door needs.  Just ask any of our customers!
Everyone loves their beautiful, sunlight-giving Andersen glass sliding doors and windows! But even the best windows and doors need a tune-up every once in a while. Accumulated dirt and debris, misaligned patio doors, bent or worn tracks, or latch and handle malfunctions are all common sliding door issues that can be solved in a snap with Galron's Andersen Sliding Glass Door Repair. Our Experienced installation techs have a solution for any problem from windows to doors and will fix or replace your damaged moving doors quickly and efficiently.
We service all sliding glass door and windows repairs including roller repair, track repair, off-track doors, latches, handles, and more. We also install new sliding doors or windows and replace old windows and patio doors. We carry all major sliding glass door brands for replacement. If your sliding door becomes impossible to open or close, you may believe that the replacement of your doors or windows is your only alternative. You shouldn't have to endure a door that sticks, won't slide open, or takes a precise combination of lifting to open, but thanks to our sliding glass door installation service, you won't have to invest in an expensive replacement or installation. Let us fix your patio doors entry points and more with proper installation! Damaged parts may necessitate a complete hardware replacement for proper installation, whether the damaged component is the rollers or the track. The new hardware will be installed and adjusted by Galron's patio door installation Chicago specialists to get your door operating like new.
We guarantee a quick analysis of the sliding door issue, an on-site quote, and immediate repair. Our inspections are thorough, so you can rest easy knowing that no surprise issues will pop up after we leave.
Contact us today for a free quote to fix your sliding patio doors, french patio doors, sliding french patio doors sliding tracks & rollers, replacement windows,  and more: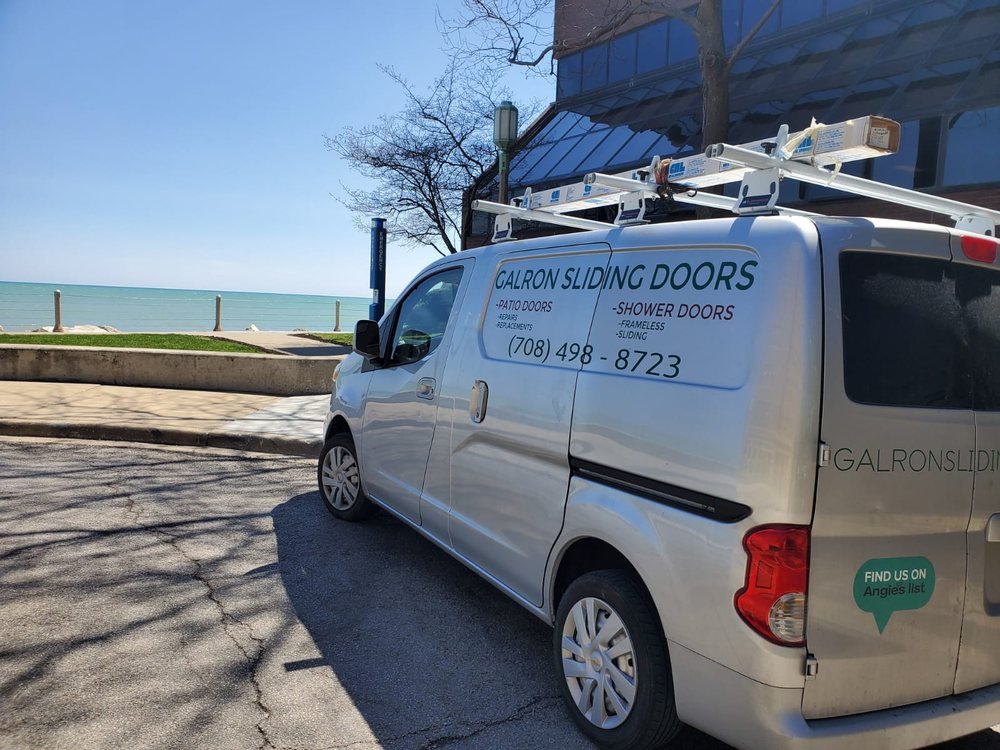 Want a Free Estimate?​
Call Galron Sliding Doors Now!