Galron Sliding Door is the best sliding glass door repair in Chicago. You can call at (708) 206-9646.
Repairing double-pane windows should be done immediately, even if they appear to be in good condition. The thing is, a broken double pane window could be the source of your home's condensation.
While dual-pane sliding glass doors might save lives, you don't want a damaged one to wreak havoc on your home or any other location. Once the glass's seals are compromised, it immediately ceases to function. The consequences might be immediate, ranging from dampness to damaged interiors and increased energy expenditures.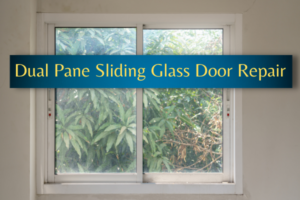 The Anatomy of a Double-Pane Window
Replacing the damaged window glass alone may not be the optimal solution. Dual-pane sliding glass doors must be inspected thoroughly because harming the glass compromises the manufacturing seal. As the name implies, dual-pane sliding glass doors have two glass panes joined by a gap. This chamber is vacuumed of air and then filled with an inert gas, typically argon or krypton. It facilitates a more gradual heat transfer, as inert gases transport heat more slowly than air. This type of arrangement is called an IGU or Insulated Glass Unit. We also do balcony door repair.
When an IGU breaks, it damages the glass and the entire assembly that connects the two glass panes. Simply replacing the glass will not restore the functionality of a double-pane window.
Can I do it myself?
Only a few stages of dual-pane sliding glass doors repair are do-it-yourself. For starters, you can learn how to remove the complete dual-pane sliding glass doors from the frame rather than paying someone else to do so. The following is a step-by-step procedure:
Disassemble the Sash in Step 1
Carefully detach the sash from the frame using a screwdriver. Locate and loosen the remaining screws that hold the strap together at the corners.
Step 2 – Apply Consistent Pressure
Apply pressure on the sash to dislodge it from the frame. Separate the belt and then rip the gasket away from the pane.
Bring It to a Specialist in Step 3
After removing it, please bring it to the window specialists to comprehensively analyze and repair the damage.
Repair Costs
The typical cost of repairing a dual-pane sliding glass door repair is $170-$180, which is $100 more than the cost of repairing a single-pane window glass. It is due to the additional labor cost associated with the IGU function.
Additionally, the cost may vary depending on several aspects, such as additional labor charges, the type of windows, or different broken components that require repair. Additionally, there will be situations when it is preferable to replace the entire window. You should seek more counsel from an expert on this.
If your window has a wooden frame, you should anticipate a slightly higher price. Vinyl or aluminum-paned windows typically cost between $20 and $25 less than wooden-framed windows.
Improved insulation begins and finishes with installing high-quality dual-pane sliding glass doors. Dual-pane sliding glass doors are the most prone to breakage and damage, which is why you should only trust the professionals with them. We at Galron Sliding Doors can attest to our glasses' functionality, quality, and highly configurable features, all at an affordable price. We take pleasure in our glass products, primarily used in residential, commercial, and specialized applications. Give us a call if you have any issues with your dual-pane sliding glass doors.
Dual Pane Sliding Glass Door Replacement Cost
Several variables determine the cost of replacing dual-pane sliding glass doors. If only one pane is broken, replacing both panes is pointless. At Galron Sliding Doors, skilled glaziers create personalized glass. As a result, all you need to do is schedule for one of our professionals to visit your home or apartment and measure the size of the panes. We will make every effort to deliver and install an identical panel, restoring your window to its original condition.
Why Is It Safer to Have a Professional Repair Your Double Pane Window?
Dealing with broken glass is one of the most unpleasant situations. While you wait for a dual-pane glass replacement service, you can cover it with scotch tape, but you must exercise extreme caution. If you press too hard, the entire pane may split and disintegrate. If your window glass has been damaged by a strong storm or a fallen tree, you'd be wise to seek professional assistance. Having hundreds of tiny glass fragments throughout your home is quite dangerous, even more so if you have rugs.
Galron Sliding Doors specialists are fully equipped to replace dual-pane sliding glass doors in your home or apartment. We employ safety goggles, leather gloves, and other tools to assist our technicians in removing any shattered glass and preparing a frame for the installation of new panels. Dealing with a broken window can be challenging due to the weight of the panes, especially if they are thick glass. If your window is located high or you have multiple pane patio doors, even an average man may have difficulty moving such a large mirror.
We use double-pane replacement to provide an excellent result. You're going to love your new panes and the way your window looks. Save time and money by having our technicians remove the broken glass and replace it with a unique tailored panel. Do not rush into purchasing a new window since new dual-pane sliding glass doors will be pretty expensive, especially if you go for a vinyl unit. We are a group of skilled and creative professionals that know how to give an old and damaged window a new lease on life.