Galron Sliding Door is the best sliding door repair company. You can call at (708) 206-9646.
There's nothing like a glass door to let in all that glorious sunshine. Favored for walk-out basements, porch and deck entry, kitchens, and more, sliding doors and French doors are a terrific addition to any home. They create an airy open sensation and are particularly effective in places that may not have many windows. They also open up the view to easily see the kids playing in the yard or enjoy the gorgeous mountain vistas at daybreak.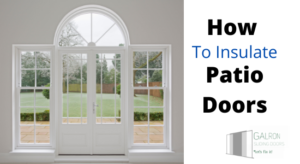 Like windows, poorly insulated glass doors can also be a significant source of energy loss, making it harder to manage the temperature. Is the space around your patio door feeling a touch draughty? It's probably time to insulate your patio doors to help enhance your home's energy efficiency.
We've developed this article outlining six unique ways to insulate your glass doors for the best energy efficiency and temperature regulation. Follow these tips to start enjoying your sliding door-year round. How to insulate patio doors?
Use Window Coverings
Curtains or drapes with thermal backing are an excellent solution for keeping the warmth in, cold out, or whatever you desire, depending on the time of year. They also hide any harsh morning sunlight and provide extra seclusion at night. This is particularly handy if your glass door faces the street or gives an open view of your property. Another energy-saving window covering option is cellular blinds. The honeycomb form provides exceptional insulation and sound dampening. Additionally, the product is available in various materials ranging from sheer to room darkening for a personalized finish. Always look for sliding glass door installation near me.
Clean the Door Track
Grit and dirt accumulate quickly over the year. This dirt from your shoes, pet's feet, etc… creates tiny microscopic air pockets at the bottom of the door, allowing air to enter. To ensure that your sliding glass door operates optimally, you'll want to clean the tracks. Vacuum the door track and gently wipe it off with a weak dish soap solution. Before attempting any other insulating technique, such as caulking or installing weather stripping, you'll want to clean your door and its components.
Add Weather Stripping
All doors, including glass doors, should change weather stripping every few years. Installing weather stripping between sliding doors prevents air from circulating between the door's sides, resulting in improved insulation.
Compression Strips in Rubber
Rubber compression strips with adhesive backing are ideal for glass doors since they can be readily cut to fit correctly. Measure and apply to clean track and sash surfaces. They are designed to withstand cold temperatures and not contract as the temperature drops. Additionally, they are resistant to moisture, which is great for our humid and wet climate.
Add a Window Insulation Kit
This is a time-honored method of insulating windows and doors. Plastic film insulation kits (affectionately referred to as storm window kits) are widely available at most hardware stores. Clean the glass nicely and cut the film to fit any door size or type. Double-sided tape adheres the film to the door frame, securing it in place. Once the film is in place, use a hairdryer or heat gun to shrink the plastic. This creates a barrier on your glass, insulating it from heat and cold and significantly increasing the energy efficiency of your door.
Re-caulk
Another tenet of homeownership, caulking, is beneficial in any space that requires insulation or moisture blocking. Doors are no exception, and caulking any leaky areas is a simple do-it-yourself project. First, remove any existing caulking from the door, either the entire door or just the area that needs a touch-up. Caulking ropes for doors and windows should be rated accordingly. Apply the caulk with caution. Doityourself.com has some excellent caulking application suggestions.
When Is the Right Time to Replace Your Glass Doors?
These do-it-yourself solutions should assist you in resolving the issue of air leaks around your glass doors. Of course, if your door has reached the end of its useful life and requires replacement, pricing out a replacement door will save you time and hassle.
Budget is an expert in all things glass, and we have a variety of alternatives for your home based on your specific requirements. With double-pane vinyl and Low-E coatings that reflect infrared light, you'll be astounded at the impact our modern glass doors create. We'll ensure that your home is both pleasant and energy-efficient, with no draughts or heat loss!
Consider Replacing Your Screens Concurrently
If your door is nearing the end of its useful life, chances are your door screen is as well. If you're bothered by bugs, speak with us about our screen door choices. We install a variety of screens to complement a variety of exterior door styles, including aluminum, vinyl, and wood frames. Our screen doors are built to last and include heavy-duty frames and metal ball-bearing rollers for a smooth slide.
Additionally, we provide a variety of screening material colors and materials, including beige, brown, and white, with bare fiberglass or optional aluminum screen mesh. Our skilled installers can assist you in determining the most refined product for your home's interior and exterior style by helping you select the best color, style, and material for a new door and screen combination. Additionally, we'll take care of the measurement to ensure a great fit!
This year, upgrade to one of our energy-efficient patio doors and put fears about scorching summer days and freezing winter evenings to rest. If you require a custom mirror, automobile glass repair, skylight replacement, or anything else, contact our team galron sliding doors to discuss your project.