A house with sliding glass doors is a house that is vulnerable to the elements. Glass is an ineffective insulator. During the summer, the glass in sliding glass doors acts as a conductor for heat to escape and for sunlight and heat to enter the home. We can replace your existing slide doors with low-emissivity (low-E) doors to reduce energy loss. These doors have a special coating that prevents energy from penetrating through the door. We can tell you about the benefits and features of low-E glass sliding doors if you're looking for a more energy-efficient solution. Meanwhile, there are some steps you can take to insulate your existing doors. How to insulate sliding glass doors for summer?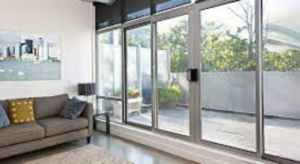 Clean the Door Track
When you walk over the door track, tiny particles and debris from your shoe can fall into the track channels. Because you step through the track when the door is wide open, the door will most likely run over the debris on the track when you close it. This can cause the door to lift, allowing drafts to enter through the bottom. We recommend vacuuming the channels as often as possible to prevent debris from accumulating.
Strips of Rubber Compression
Weatherproofing tools such as adhesive-backed rubber compression strips provide an excellent seal around the door. These rubber strips are simple to cut and will fit any sliding door channel. The strips are resistant to moisture and air and do not contract in cold temperatures, so there will be no drafts. The strips include air-tight seals that fit into the channels and around the sash.
Weather Sealing
Weatherstripping sliding glass doors keep cold air outside and prevent inside air from escaping. Install it between sliding doors to reduce warm air loss and protect the entire house from freezing air in the winter. Weatherstripping restricts airflow in gaps between sliding doors, which are prone to drafts.
Window Kits Made of Plastic
Shrink wrap, which shrinks when heat exposure, is used in window insulation kits. You can cut the plastic sheeting to fit any size or dimension of sliding glass door. To secure the plastic to the door frame, double-sided tape is used. To shrink the plastic, use a hairdryer to heat the surface. The plastic sheeting shrinks and tightens to create an energy-efficient barrier from the outside. If you're looking for a sliding glass door, search for the best sliding door repair near me.
Sliding glass door sun blocker
Which window treatments work best for sliding glass doors? Almost any window treatment can be used to cover sliding glass doors, but some are better suited for large windows because they traverse horizontally. We have many sliding-glass door window treatments besides vertical blinds.
Sliding-door cellular shades
Known for their energy efficiency, cellular shades are ideal for patio and sliding glass doors. Honeycomb Shades trap air in pockets to add insulation to windows. Duette shades are energy-efficient. Both products' honeycomb pleats stack tightly when open for a clear view. Duette shades have different pleat sizes, colours, patterns, and textures. Most fabrics have white backs, so the outside looks uniform. With the Vertiglide operating system, you can use one shade to cover the entire window or two independently operated shades of varying opacities for more light control. Choose the right lock system if your sliding-glass door is in a media room where you want more darkness. Its innovative side-channel traps and absorbs nearly all incoming light.
Cellular shades' benefits:
• You can get benefit from Patio and sliding-glass doors in hot or cold climates.
• Cellular shades' extensive fabric collection makes them versatile.
• You can control natural light using light-filtering and room-darkening fabrics in the same shade.
Sliding-door vertical blinds
Vertical blinds for sliding glass doors are common but not ordinary. They come in many colours, textures, panel styles, and materials, including vinyl, fabric, and aluminium.  Window Panels are modern and maximize views. Skyline panels are easy to use and come in over 600 colours, textures, openness factors, and opacities. Soft Vertical Blinds have curved vanes that resemble drapery folds. The curved design and patented headrail provide excellent sound absorption. Blinds come in various colours, textures, and valance styles.
Vertical blinds' benefits:
• With so many fabric options and styles are a versatile sliding-glass door solution.
Vertical blinds have minimal stackback, maximizing views.
Sliding-door privacy sheers
Privacy Sheers have soft fabric vanes attached to the sheer face fabric. Open vanes diffuse natural light beautifully. All sheers come in room-darkening fabrics, textures, and colours. Since you can buy the fabrics as yardage, it's easy to coordinate other home accessories. Luminette sheers can be up to 192″ wide and 120″ tall, making them ideal for patio doors and large windows.
Vertical shears' benefits:
Vertical sheers combine vertical blind functionality with drapery elegance.
• Sheers diffuse natural light, creating a soft atmosphere.
• Vertical sheers are available in hundreds of colours, patterns, and textures.
Wooden Blinds
Woven wood shades for sliding glass doors are popular for their eco-friendliness and unique look. Natural woods can withstand different weather conditions, so they warp less over time. Woven Wood Shades reduce stretching, bowing, breaking, and fading. Woven wood shades work with island, Mediterranean, and traditional styles, and they're horizontal and vertical.
Woven wood shades' benefits:
• They give rooms a unique, organic feel.
• Natural woods can withstand harsh weather and keep their shape.
• Woven woods can fit almost any room decor.
Sliding-glass-door shutters
Durability, energy efficiency, and classic style make shutters an excellent choice for sliding glass doors. In hot or humid areas, consider hybrid or non-wood sliding-glass door shutters. They look like painted shutters but won't warp, crack, fade, chip, peel, or discolour in extreme heat or moisture.
Shutters' benefits:
They're durable, energy-efficient, and beautiful.
• You can find shutters to match your style with so many options.
• Permanent shutters can increase your home's value.
Sliding-glass-door drapery ideas
Drapes and side panels make sliding glass doors elegant. Pair them with another window treatment for more privacy, temperature, and light control. What works best? First, choose your window treatment since drapes are easier.
Side panels and drapery benefits:
• They create a soft, elegant atmosphere.
• There are endless pattern, texture, and style options.
• They add privacy and light control when paired with window treatments.
In another post, you can read more about What is a triple pane sliding glass door? Galron is best for providing services of patio door repair. You can contact us at 708-206-9646.