The house's exterior could always be improved with a variety of decorative tools. It is essential to decorate your exteriors, specifically the entrance doors, windows, and patio area. An awning can be added to any of these spaces. An awning, also known as an overhang, is a second covering for a building's exterior wall. Canvas is typically made of acrylic, cotton, or polyester yarn that is stretched tightly over some planar frames. This can also be thought of as an exterior window and door treatment that adds a dramatic effect. What are the best patio door ideas for my home?
Awnings are typically installed above a window or door, but they can also be installed with columns, which are ideal for patio decoration. Awnings are classified into three types: propelling awnings, which can be manually opened and closed, retractable awnings, which are becoming increasingly popular and are commonly used in patios, and aluminum awnings, which are more durable. This overhang decor keeps the sun and rain out, but it is also a powerful decor for a building's entrance. Awnings can also be added to the interior and used as a window treatment. Contact Galron for sliding door replacement.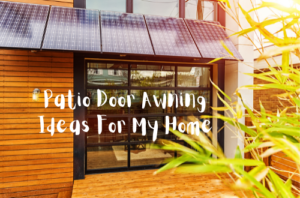 1. Kitchen in the Bistro Style
This eye-catching striped awning is an excellent substitute for a traditional window valance.
2. Private Residence
Install awnings on south-facing windows to compensate for a lack of roof overhang and to provide additional shape for the sunlight.
3. High Tobin Bluff
As a siding for the entrance doors, an entry awning is a great option.
4. Patio
The awnings provide shade from the afternoon sun while also adding beauty to the exterior.
5. Outdoor Retreat
The design of the glass awning makes the entrance look very inviting.
6. House Flip/Flop
The retractable awnings provide shade in the summer and can be retracted to maximize daylight during the long, dark winter.
7. Exterior Rustic
This is a fantastic idea for a window awning; the wood awning adds a rustic touch to the garden.
8. Outdoor Dining
This is a fantastic exterior; the beautiful design of the house is highlighted by the glass doors and awning shutters.
9. Modern Patio
The beauty of the timber awnings glows with fixtures attached to light the area.
10. Cougar Mountain House
The awnings were given a modern look by using frosted glass and custom metal fabrication as materials.
11. Retreat in West Virginia
The metal awning is made of aluminum and is ideal for wooden decks.
12. Lebaron Farm
The woven awning, which is curved and shaped like a barrel, is ideal as farm exterior decor.
13. Awning for a Cafe
For a more dramatic look in a themed room, try adding an awning as a window treatment instead of the traditional window treatment.
14. Monarch Bay
Natural wicker is ideal as a patio cover instead of other materials, especially in coastal cottages.
15. Front Porch
The front door has a striking flair with the vaulted copper awning and lights from below for a dramatic effect.
16. Classic Window Awning
Window awnings make the outside of your home look fantastic!
17. Sheep's Run
The fabric awning softens the textures of the bricks and metals, resulting in a beautiful exterior and landscape.
18. Front Entrances
This front door is beautifully detailed with decors, the pots and wall sconces on both sides, and the frosted glass for the awning.
19. Exteriors
The black French door is ideal, and the striped black awning completes the look.
20. Rutherford House
The awnings are made of fabric and can be manually opened and closed as desired. This is a fantastic accessory that increases the versatility and usefulness of decks and patios for their owners. Because this awning prevents sunlight from entering your home through windows and doors, it will keep your home cooler and save you money on air conditioning. And, of course, it can help prevent fading of carpets and furniture on decks and patios. This is a very effective decor that can transform your home into a well-designed structure.
Back Door Awning Ideas
A door awning's primary function is to provide shade from direct sunlight. A door awning provides shade for your door in hot or cold weather. We discovered a few DIY door awning plans that you can build.
Whether you have a front or back door, or you want a metal, wooden, or PVC door awning, we have the perfect one for you. Are you prepared? Let's get started.
1. Make Your Own Tiny House Awning
With this awning design, the creator was inventive. He bulked up a small house and decided to add an awning to the front door. An angle iron supports the wood piece that covers the door area on the awning. It was also painted white to match the awning's sides. The first step is to sketch out the house with the awning on top. If you are not skilled at creating 3D images with software, you can simply draw a rough sketch on paper. You will need to cut some wood pieces for the awning's end sides. The creator worked in stages, and the task appears to be simple.
2. Making A Simple Porch Awning
You'll need to disassemble a few pallet types of wood to make this simple small porch awning for your door. So, technically, a pallet of wood was used for the frame, and a scrap piece of material will suffice for the roof. Making the processor simple, the video was not in time-lapse, so every detail could be seen and understood.
3. Make Your Own Corrugated Metal Awning
This is a relatively inexpensive and simple project to construct. The corrugated metal awning is both from last and easy to build from scratch for even beginners, and the total cost of this project is $60. A miter saw corrugated metal, multi-purpose snips, sanding block, metal roofing screws, Kreg jig pocket holes, 2×4 wood, and a few other essential materials are required. This is one of the coolest and most straightforward builds on this list. You can make a metal awning for the first time even if you are a beginner.
4. DIY Corrugated Metal Awning
This is a fun project that won't take up too much of your time. Once you've gathered all of the necessary materials, your first step will be to cut your pieces of metal iron stripes, assemble triangles, assemble and hang the frame, attach your corrugated metal on top and screw it securely to the metal frame, and you're ready to go. It's that quick and simple to construct.
5. Awning for a PVC Door
This is a fantastic door awning made of PVC pipe and PVC pipe fittings. PVC pipe, PVC end caps, PVC elbows, acrylic sheet, PVC T joints, PVC shoes, and screws are required. A hammer, screwdriver, PVC cutting saw, measuring tape, and a drilling machine is required tools. The pipes must then be cut to the appropriate size. Then, before you talk about attaching your roof, prepare the upper, lower, and back frames and attach them all to the form for the awning.
Galron Sliding Door is known for the best sliding glass door roller repair. Get ideas and a guide for the best patio door blackout curtains. You can call (708) 206-9646  for more information.