Galron Sliding Door provides the best installation services of patio and hinged doors in Chicago. You can call at (708) 206-9646.
Patio doors connect your inside and outdoor living spaces. When shopping for a new or replacement patio door to complement your area, it's critical to understand the distinctions between hinged and sliding patio doors.
With the proper knowledge of each offer, you can completely modify the appearance and function of your area. Continue reading to learn more about the distinctions between hinged and sliding patio doors.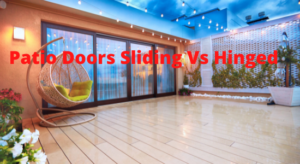 When a homeowner chooses hinged patio doors, sophistication is frequently the goal. They are a time-honored choice. If you want a more contemporary style, various modern color options are available and an assortment of minimalist hardware to complete the look. Pella offers two distinct hinged patio doors in terms of function: two operable doors that swing open from the sides or a single hinged door.
Patio Doors with a Single Hinged
A single-hinged patio door exudes simplicity and beauty. It is a single-door panel and often connects to a deck or sunroom. It is frequently used in conjunction with huge windows to create the illusion of a glass wall. Patio doors with a single hinge are typically used in limited wall spaces. They can be modified with additional features to bring personality to the décor of your home. A single hinged door with a left or right sidelight, or both, is available. In this article, you'll know the difference between patio doors sliding vs. hinged.
Patio Doors with Double Hinged
If one is insufficient, double-hinged doors are the solution. This type is generally referred to as French patio doors since it consists of two swings open from the middle. Double hinged patio doors offer a degree of adaptability since they can create a striking statement in any home, regardless of whether it is contemporary or classic in style. If you want your French patio doors to open into a room, you can choose an in-swing. When the double patio doors open out into a patio or deck, and out-swing option works well.
Patio Doors That Fold
Although we have discussed single and double hinged patio doors, there is another form of hinged patio door that may be ideal for your home – bifold patio doors.
Bifold patio doors by Pella are well regarded for their efficiency, convenience, and durability. These multi-panel doors fold and stack neatly to the side, creating additional space and a seamless transition between the indoor and outdoor areas of your home.
Sliding Patio Doors Conserve Space
If hinged patio doors are more conventional, sliding patio doors add a modern flair. As their name implies, sliding patio doors slide open on a track. They are composed of two glass panels, one of which is fixed and the other slides open and closed. For best services, you can contact galron sliding doors.
This is why sliding patio doors are an excellent space-saving option for tiny rooms. However, if you have excess space, you may always add a panel or two to the opening. Additionally, most homeowners will incorporate a sliding screen with their sliding patio doors. Screen doors allow the breeze to enter while keeping the bugs out.
Patio Doors with Multiple Slides
With multi-slide patio doors, invite the outdoors in — and the indoors out. Expand your living space with expansive panels that slide open simply and intuitively, stacking against one another or folding away out of sight into a wall pocket. Door panels can be moved to one side of the center. With Pella's dual-vent option, you can enter or escape from either end of your door.
Patio Doors: Hinged vs Sliding
In general, hinged patio doors are more prevalent in homes with a traditional architectural style, but sliding patio doors are a modern mainstay, particularly in homes with limited space. Both sliding and hinged patio doors have their distinct advantages, but ultimately, it comes down to which patio door best suits the architectural style, décor, and usefulness of your home. Only you and your home can choose what is best for you and your home.
Sliding Door vs. Hinged Door Shower
Shower doors come in a variety of styles. Choosing between a sliding and hinged shower door is a common issue for consumers. Both keep the water contained, but what makes them different?
Typically, the design swings open. Framed and unframed options are available. The two side hinges are drilled into the bathroom wall to install frameless hinged doors.
Advantages
Clean and maintainable: Like sliding doors, hinged doors lack bottom tracks. Shower glass doors are easier to clean than sliding doors.
Larger opening, safer: Because hinged doors open to at least 90 degrees, they provide more interior room. The holes can also be made larger by adding side panels, making them safer for mobility issues.
Give a nice look: A frameless hinged shower door integrates into the wall with little hardware such as tracks, brackets, and hinges. They serve to unify the bathroom as a whole.
Disadvantages
Small bathrooms can't have hinged doors since they open outward. It can be an issue in a small bathroom.

Water may come out when the door is opened after a shower. Soaking up the water after a shower will take some time.

The size/area of your bathroom is essential when choosing a sliding or hinged shower door. The price varies according to the glass type, thickness, frame, semi-frame, and frameless options. All you need to consider is your bathroom's style and necessities.