If you're considering installing a sliding glass door in your home, here are a few things you should know. What are the sliding glass doors that slide into the wall?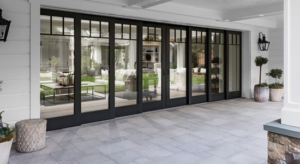 Why should you go with a sliding glass door or wall system?
A few advantages of sliding doors are as follows:
Natural light: Sliding glass doors naturally allow more sunlight into the room, brightening it up.
Openness: By opening up the space and encouraging effortless movement between indoors and outdoors, slide doors can completely transform a home's aesthetic.
View enhancement: Multiple glass panels can be combined to form a "window wall" that frames panoramic views for year-round enjoyment.
Space savings: Sliding glass doors and wall systems do not require much space. This gives you more free space to work with when furnishing your home.
Size of Sliding Doors
By installing sliding doors you can add beautiful functionality to a large opening or completely fill a space. Panel sizes vary depending on where you want your sliding system installed and the opening size. Sliding systems can be configured with two sliding door panels or multiple panels that run the length of a wall. Install any type of sliding glass door sizes.
What is the best material for an exterior sliding door or wall system?
A sliding glass door can be found to match almost any home style. The key is to select a system material that provides the appropriate performance for your geographic area while also providing aesthetic options that complement the style you have in mind.
Aluminium: Ideal for mild climates, aluminium sliding systems have a 2 3/4″ narrow stile and rail profile, allowing for more glass and light.
Aluminum Thermally Controlled: aluminium thermally controlled system, meticulously designed to maximize thermal performance and strength, maintains the ideal indoor temperature whether you live in a hot or cold climate. Furthermore, you can choose a different finish for the interior and exterior, giving you the creative freedom to specify which colours you want where.
Aluminum Wood: Designed for tall sliding doors and suitable for multiple climates, the wider-profile aluminium wood system combines the warmth of wood on the interior with a durable aluminium exterior.
Contemporary Clad: Our most energy-efficient, contemporary clad system also has an aluminium-clad exterior and a natural wood interior suitable for various climates. Narrower stiles and rails emphasize the glass, allowing plenty of natural light.
Sliding Glass Wall Cost
Window walls range in price from $700 to $1,600 per linear foot. The reason for such a wide price range is that these systems are tailored to each individual home installation.
A window wall typically includes horizontal and vertical metal framing members and various components such as windows, panels, and lights. Frameless versions are also available, typically for the commercial and luxury residential markets. The primary benefit of this design is that it allows for an unobstructed view.
The most recent frameless window walls meet the most stringent impact requirements, which is critical if you live in a hurricane-prone area. Some versions can withstand 110 pounds per square foot (PSF) positive and negative pressures, allowing them to be protected from high hurricanes.
A frameless wall window that can withstand high impacts can be up to 12 feet high and 8 feet wide. To control glare and heat gain, these windows typically employ a variety of coatings, films, and tints. Examine the price of window tinting to protect your home from UV rays and heat.
What options are there for sliding glass door and wall system configurations?
Sliding doors are available in various configurations, in addition to many size and aesthetic options. Sliding wall systems range in length from two to twelve panels, with numerous options for operating vs. fixed panels and a choice of where the panels go when the door is opened:
Stacking option: The glass panels stack behind one stationary panel on the left, right, or both sides (if the panels are part of the middle).
Pocket or in-wall installation: The glass panels slide into a wall pocket on the left, right, or both sides (if the panels are part of the middle).
Extensive material, decorative, and configuration options enable you to design your dream's expertly engineered, high-performance sliding door system without the high cost and lengthy lead time associated with custom sliding doors.
With your own sliding wall system, you can live the Galron lifestyle.
Want to learn more about your options and the benefits of a sliding patio door or wall system in your current or future home? For ideas, browse the galron sliding door gallery. Learn more about  How to insulate sliding glass doors for summer? Request a quote for sliding glass doors or call us at 708-206-9646. Once you have a general idea of what you want.