Galron Sliding Door provides the best sliding door roller at the best cost.You can call at (708) 206-9646.
Sliding glass (patio) doors are the outdoor entrance to the courtyard in Western civilization. Due to the glass panels, you will receive an abundance of natural light when you install this door style.
Earlier sliding glass doors were attractive but inefficient insulators, and they provided little security for the house. Nowadays, you can buy dependable, energy-efficient ones that will protect your home from intruders thanks to their thick, high-quality glass. The question is, how much does a sliding glass door replacement cost. Let us examine.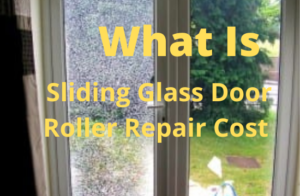 The Cost Of Replacing A Sliding Glass Door
A new sliding glass door costs between $300 to $1,800 on average, depending on the door's size, glass type, panel count, material, and brand.
The least expensive alternative is to purchase a classic door with six feet (1.8 m) broad plain glass panes enclosed in a frame. However, you would need to pay between $700 and $1,000 for an 8 feet (2.4 m) wide door. It'll help those who ask what does the sliding glass door roller repair cost?
The Average Cost of Replacing Sliding Glass Doors
$1,700 on a national average
Between $1,000 to $2,400 on average
Costs start at $500.
The maximum cost is $5,000.
A multi-panel sliding door costs between $1,000 and $4,000, depending on the model with double- or triple-pane hurricane-proof glass. You should include an estimated $300 to $600 in labour costs in most circumstances.
Substituting For A Sliding Glass Door
When your old sliding door becomes broken, begins to leak, or is an inefficient model, it is time to replace it. It's fantastic that you won't have to do any structural work if you choose to return your sliding glass door without widening or creating a new opening.
60 x 80 Inches (1.5 – 2 M) Standard, 2-Panel Cost of Replacing a Sliding Glass Door
$400 to $1,800 for a new sliding door
Removing an old door costs between $100 and $250.
Installing labour costs between $200 and $350
Keep in mind that while you often do not require permission to replace a door, you should verify the requirements if you wish to modify the door frame.
I'll mention the expenses of replacing sliding glass doors based on the standard door size. Note that larger or bespoke sizes can add between $50 and $4,000 to the total cost.
Cost Of Replacing Sliding Glass Doors By Size
5 ft (1.5 m)
Between $700 and $1,400
6 ft (1.8 m)
900 to 1,500 dollars
8 ft (2.4 m)
Between $1,100 and $1,600
9 ft (2.7 m)
Between $1,200 to $1,700
ten feet (3 m)
Between $1,350 and $1,900
12 toes (3.6 m)
Between $1,400 and $2,000
fifteen feet (4,6 m)
Between $1,800 and $2,500
Prices Of Sliding Doors By Material
Aluminium is a strong, easy-to-clean, and reasonably priced door material. However, you may encounter scratches, rust, and inferior quality.
Solid wood: This exquisite material performs admirably. You will have no difficulty installing or repairing it as needed.
Durable solid wood is a one-of-a-kind solution for any home with a traditional appearance and superior insulating capabilities. Regrettably, this is one of the more costly solutions, as it requires frequent maintenance.
Cost Of Sliding Glass Doors By Material
Aluminium PVC between $250 and $1,500
Between $300 and $1,500
$550 to $2,000 for solid wood
$800 to $2,500 for clad wood
Fibreglass
between $400 and $2,500
Clad wood: You can choose your favourite colour for the frame and repaint it as needed. Regrettably, this weather-resistant, wood-like substance is costly and requires routine care.
Fibreglass: This wood-like, energy-efficient material is highly durable and requires little maintenance. The primary disadvantage is the expense, as it is somewhat expensive.
PVC — Many homeowners like this cost-effective, lightweight, and durable material. It is a low-maintenance material that will not deteriorate over time. However, vinyl is combustible and prone to cracking, particularly in areas with frequent temperature changes.
Prices of Sliding Doors by Type
The cost of a multi-panel sliding glass door is proportional to the number of panels. You can buy a sliding door with two panels of 5 to 8 feet (1.5 – 2.4 m) wide for as little as $300. 
Cost Of Sliding Glass Doors Depending On Their Type
Panel count
Price at the door
Cost of door and installation two panels, one fixed
Between $300 and $1,500
Between $500 and $2,500
Three fixed panels, 1 or 2
Between $1,000 and $3,500
Between $1,000 and $4,500
4 fixed panels, 2 removable
between $2,000 and $5,000
Between $2,300 and $6,000
If you choose a 9-foot-wide (2.7-meter) sliding door with three panes, you can expect to pay up to $3,500. As you might assume, the most expensive option is a sliding door measuring 12 feet (3.6 metres) wide with four panes.
Prices of Sliding Doors Based on Glass Type
Sliding doors are available in a variety of glass kinds. The average price without installation will be in the following range:
Costs of Patio Door Panes by Type
Low-E
Approximately $100 to $500 Impact-resistant
Between $300 and $700
Gas-filled
Between $400 and $650
High-efficient
$400-600
Textured between $500 and $1,000
Reduced from $700 to $1,100
Hurricane-resistant
Between $1,000 and $3,000
Noise-isolating (blocks 75 per cent to 95 per cent of noise)
Between $1,200 and $4,000
The most popular variants use double pane glass and range in price from $450 to $2,000.
Triple pane models are somewhat pricey, ranging from $2,000 to $6,000 for a high-quality unit.
Cost of a Do-It-Yourself Sliding Glass Door Replacement
If you are sufficiently skilled and choose to replace your sliding glass door on your own, the total cost will be between $800 and $1,800. This total includes the cost of tools and supplies, the door itself, and $75 for delivery.
In most circumstances, you'll need roughly a half-day to complete the task. Remember that you cannot do everything alone, as this door is heavy and difficult to install.
In summary, all sliding glass door replacement costs are based on the standard door size. Numerous more considerations will affect the total price, including large or bespoke sizes, premium brands, and numerous modifications such as screens, tinting, automatic opening, blinds, shutters, and sidelights.