Are you thinking about installing exterior sliding doors for your patio entry? Sliding doors are a popular space-saving design that can accommodate many openings. It's a design element that can be found in both tiny homes and grand-scale restaurants and residences. 9 things you should know before buying sliding patio doors.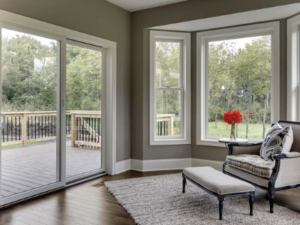 Sliding patio doors are versatile and come in a variety of sizes and configurations, allowing you to design them to meet your architectural requirements. The range of low to high prices makes them even more accessible. Sliding glass patio doors provide smooth operation and a modern look without taking up as much space as hinged doors. Bifold doors, on the other hand, fold into one another and provide a larger exit path. Meanwhile, because of their neat "packed away" feature, sliding doors are a safer option in homes with children.
9 Things to Consider Before Purchasing Sliding Patio Doors
If you're looking for the perfect door for your patio opening and are leaning toward slick gliding doors, here are a few tips to help you decide.
1. Will the cost of my sliding door be affected by its size
Yes, the cost is affected by the size and configuration. Sliding doors make it easy to move from your tiny apartment kitchen to the outdoor area or from your modern home's grand opening to your family-sized patio. Check that your contractor has accurately measured the space before ordering your sliding glass door.
2. Is it possible to get vinyl patio doors
Patio doors come with a variety of panel frame materials. Many door manufacturers build strong and durable door systems with wood, vinyl, aluminum, or fiberglass exteriors. Each material has advantages; consult with a door expert to determine which is best for you. Because of its low-maintenance reputation, vinyl is a popular choice. The material is weather-resistant, resulting in a long-lasting door that can withstand harsh climates. Vinyl is typically the least expensive material, making it the most appealing option for budget-conscious buyers. Large sliding glass doors are best for drawing-rooms and Tv lounges.
3. Do My Patio Doors Require Tempered Glass
Definitely! Safety glass is required for sliding glass doors. Tempered glass is durable and resistant to shattering. Instead, the one-of-a-kind glass will shatter into small, almost circular fragments. These safety glass types, like laminated glass, are required because they are less likely to cause bodily harm if they break.
4. What Is the Distinction Between Sliding and French Doors
French doors are hinged doors that can be made to open completely, sometimes two at the same time. Although French doors are often easier to install and maintain than sliding doors, they do require floor space to open. Patio doors that slide open horizontally. They take up only the horizontal installation space and do not require any floor space to open and close. This feature enables a more adaptable home design. For high-traffic areas, sliding doors are a safer option. Sliding doors and French doors are both popular options; select the one that best meets your needs and budget.
5. Can I Pick My Own Door Hardware
Yes, hardware is usually considered during the product selection process. You can select the color and style of your locks, knobs, handles, and foot locks. The hardware options for your door will be determined by the manufacturer. How so? Some manufacturers design doors to only work with specific types of hardware, whereas others design doors with no restrictions, giving you more options.
6. Is It Safe to Use Sliding Glass Doors
Sliding glass doors are not the most secure door option, but they can be burglarproofed with the right hardware. Sliding doors can be secured for your family's safety with foot locks, double point locking systems or more advanced locking mechanisms than the standard options.
7. What Kind Of Locks Are on Sliding Doors
Some manufacturers provide various safety locking systems. Popular alternatives include:
A six-pin key cylinder lock allows the door to be locked and unlocked from the outside using a key.
Auxiliary Foot Lock – This lock adds an extra layer of security. The lock hole can also be set a few inches away from the closed position, allowing you to lock the door partially open to provide secure ventilation or a small pet exit.
Multi-point Lock – While multi-point locks are most commonly found on exterior hinged doors (front doors and French doors), they are also available on some sliding doors. This system includes additional locking hooks, allowing the door to attach to the jamb at multiple points rather than just the door handle.
8. Is It Possible to Get Sliding Doors that Open From the Center
You certainly can. Depending on the manufacturer, you can choose from a variety of configurations. Sliding doors that can extend from the center are elegant for a large living room or a kitchen that opens onto your foliage-filled patio. Sliding glass doors that open from the center provide a seamless view and a large opening without sacrificing any floor space. Keep in mind that sliding door systems must have at least one fixed panel and one active panel in order for the doors to open from the center.
9. Do Sliding Patio Doors Save Energy
When installing windows or doors, keeping your energy bills low and your family comfortable all year is critical. Because glass is the most visible surface of sliding doors, it is in your best interest to select glass coatings that help regulate temperature.
Bottom Line for Sliding Patio Doors
Sliding patio doors are versatile, space-saving, and contemporary. They can be basic or customized with all of the bells and whistles for safety and energy efficiency. Whatever your project or budgetary constraints are, exterior sliding doors could be the solution. Read which type of patio door is best for your home. Galron sliding doors provide services for the best sliding glass doors. You can contact us at 708-206-9646.