Patio doors can improve the overall appearance of your home by creating a better ambiance and seamlessly connecting you outdoors to your home's interior living space. Choosing the best patio doors is critical because it is one of the most important investments you will make when designing your deck, porch, or backyard area. Which type of patio door is best for your home?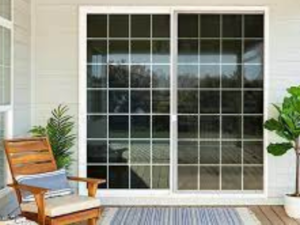 Andersen Doors and Windows are regarded as the best patio door option due to their energy-efficient and sturdy design. Double sliding patio doors are also the best option.
PATIO DOORS COME IN TWO TYPES
There are numerous types of patio doors to choose from… The options are limitless. Whether you want a specific price or style, or you want to design the exterior of your home, such as the backyard door, you will find the best fit for your home. One of our best patio doors, with a view of the patio outside, was installed in our client's home. We have a wide selection of the best patio doors for your home!
Patio doors are classified into two types:
Patio Doors with Hinges
They open and close the doors by swinging them in and out. This type of door takes up more room on your patio. As a result, the choice is determined by the available space.
Patio Sliding Doors
They are well-known for their functionality and usability due to their larger size, allowing easier access.
SELECTING THE PERFECT BACKYARD DOOR
So, how do you choose the best sliding patio door? Here are three suggestions to help you make your decision.
Choose the design that best meets your requirements.
To get the right feel for the patio door, measure the space on the inside and outside. This can be accomplished with the aid of a measuring tape. The standard-size patio door is approximately 2,090 mm (6 ft 8″) tall and 1,790 mm (5 ft 8″) wide. If you need sliding patio doors in a different size, you can always have them made to order.
Our team installed one of the many types of patio doors in a client's home.
We have many different types of patio doors for you to choose from.
There are many different designs to choose from depending on the size, such as double-pane patio doors or triple-pane sliding glass doors.
Invest in Quality Door Frame Materials
There are numerous patio door frame materials to choose from, including wood, steel, fiberglass, vinyl, aluminum, and others. It all comes down to your specific requirements. For example, your door frame's material should complement your home's architecture, style, or aesthetics. Durability is another important factor to consider when purchasing patio doors.
Here is a brief list of the benefits and drawbacks of the various door frame materials.
Wood: If you want a more traditional or classic look, go with wooden frames. However, remember that this material is more expensive and susceptible to moisture damage.
Steel is more durable and less expensive than wood, but it can rust if the paint begins to peel.
Fiberglass has the appearance and feel of wood door frame material, but it is made of glass. It is also far easier to maintain than wood.
As a plastic-based, vinyl is inexpensive, long-lasting, and requires little maintenance.
Aluminum is a good choice due to factors such as durability and resistance to moisture. They may, however, appear to be unappealing to the eye.
The main reason single pane patio doors are no longer popular is that they provide inadequate weather protection. Choose multiple glass panes, such as double or triple panes, for a weatherproof patio door. These insulate your home against heat and cold, and they also help to reduce outside noise. They also regulate and maintain the temperature inside the house by preventing outside air from entering. When purchasing patio doors, keep in mind the weather conditions in your area. A triple pane sliding glass door is a good option if you live in a particularly cold area with extremely low temperatures.
CONTACT GALRON SLIDING DOORS FOR MORE INFORMATION.
Choosing the right type of patio door can truly transform your home. It can change your perspective and improve your quality of life. Before installing, you should know how wide are sliding glass doors: standard sliding glass door sizes. If you are in the market for a new patio door or have any questions, please contact Galron Sliding doors and get the sliding glass door replacement. For more information, call us at 708-206-9646