The majority of manufacturers install the blinds within a sealed thermal window assembly. As a result, the only way to access the blinds and thus repair them is to disassemble the thermal glass assembly, rendering it useless. Most of these windows and doors will require you to purchase and replace the sealed glass assembly.
This does not necessitate the replacement of the entire door or window. This simply means that you will have to replace the entire insulated window assembly, just as you would if the glass had broken.
At least one manufacturer is producing units in which the shades are enclosed in a separate piece of glass and snap into place. This allows you to remove, replace, or change them without having to replace the main glass assembly. Having said that, we have two French Doors with blinds between the glass that have served us well for the past four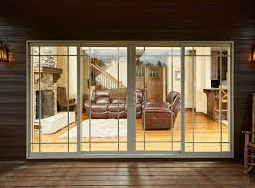 years.
If you have problems with the blinds, I recommend contacting the manufacturer to determine which type of system you have. You should be able to purchase a replacement assembly to replace the damaged blinds.
Some homeowners may be considering installing Integral blinds to existing glass and windows, as well as doors. How easy is it to install integral blinds to existing glass and windows if you recently purchased a new door with integral blinds?
Integral blinds are extremely popular in today's home improvement projects. Integral blinds specialists can be found all over the United States and the world.
Integral blinds are very appealing and desirable when paired with a new bi-fold or sliding door. There are a few things to consider when installing integral blinds to existing glass and windows. Retrofitting integral blinds, like any other modification, will be dependent on several factors. There are also dangers involved.
The advantages of replacing your existing glass with integral blinds
Integral blinds bring all the benefits of modern double glazing into your home. The double-glazed unit hermetically seals them. That is to say:
Integral blinds never need to be cleaned.
Integral blinds do not collect dust.
Integral blinds are more resistant to wear and tear.
Integral blinds are fashionable and trendy.
Integral blinds are a long-term investment.
Integral blinds have some drawbacks.
The disadvantages of integral blinds are obvious in some areas but subjective in others. In the interest of fairness, here are the potential drawbacks of integral blinds.
Integral blinds cost more than standard glass units.
Integral blinds may not be ideal if you frequently change your window coverings or like to change the look of your home.
Integral blinds are built into the glass and cannot be repaired. Both the glass and the blind will need to be replaced if they break.
You will be unable to use your existing double-glazed units.
How do you install integral blinds in existing windows?
When you talk to your local installer about integral blinds for your existing glazing, they will need to consider a number of factors. This will assist them in determining whether the work can also be completed.
The thickness of your current double-glazed units.
Integral blinds for external windows and doors are typically designed around a 28mm unit or higher. Some integral blinds are also possible with 24mm units. Integral blinds will most likely not fit in your existing windows if they have 16mm, 18mm, or 22mm glazing.
A special tool is used by window companies to determine the thickness of your double-glazed unit.
Your existing windows' glazing rebate.
All double-glazed units are installed within a 'rebate' in the window or door. That is the distance between the edge of the frame or opening light and the beginning of your glass. Some older systems have extremely limited rebates, while others are more standardized.
Your local installer will be able to determine whether the current glazing rebate is compatible with existing integral blinds.
The existing windows and doors' age and condition.
The overall condition of your windows and doors will be important when installing new glass with integral blinds. We advise against installing integral blinds on very old windows, as we discuss below, as there are risks involved.
The dangers of installing integral blinds to existing glass and windows.
Your double glazing is no longer functional.
Windows and doors, like any product that is constantly improved and upgraded, can quickly become obsolete. If your windows and doors, whether aluminum or PVCu, are more than five years old, check with your installer to see how current they are. Profiles, glazing beads, and other sections are frequently changed by system companies.
The glazing bead (the profile that holds your glass in place) could be out of date. If the glazing bead breaks during removal or re-fitting (which is common with old PVCu window beads that can become brittle), a replacement will be nearly impossible to find.
Other components of your windows, such as gaskets, weatherstrips, and glass security tape and clips, may also be lacking in replacement parts.
The first generations of aluminum patio doors, front doors, and French doors were built around the glass (called wrap-around glazing). In theory, the doors could be dismantled, and the glass replaced with a new sealed unit and integral blind.
It may be difficult to find a company willing to take on this project. If you want integral blinds in your existing wrap-around doors, you may find that a local double glazing repair company is more capable of doing so than a door and window installer.
There is also the possibility that original fixings, screws, or brackets will break and become difficult to obtain. Our recommendation is to carefully consider these types of doors before installing integral blinds to existing glass and windows that do not have beads and are made around the glass.
It is correct to emphasize the risks associated with modifying existing windows and doors. As a result, older windows and door systems pose a greater risk than newer products.
You can also learn more about repairing integral blinds in PVCu or aluminum windows.
Call Galron Sliding Doors at (708) 206-9646 today to learn more about aluminum sliding door frames in the Chicagoland area.