Our clients frequently inquire whether or not shower enclosures are the only suitable placement for frameless glass doors. Is there such a thing as a bathtub door that is made entirely of frameless glass? It gives us great pleasure to report that the answer is "yes" There is no justification for giving showers a monopoly on the use of fun frameless glass doors. In point of fact, there are a number of compelling arguments in favor of putting a frameless glass door around your bathtub. Keep reading to learn four compelling arguments in favor of installing a frameless glass shower door in your existing bathtub enclosure. What is a sliding glass doors bath?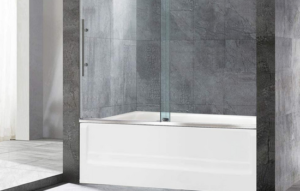 Here Are Four Good Excuses to Get a Tub Door Made of Frameless Glass
Splash-Proof: When we (or our children) get out of the tub, the floor is covered in puddles of water all over the place. The splash zone can be contained to the interior of the tub with the assistance of a frameless glass door.
Keep the Heat in: Your bath begins nice and toasty, but it doesn't take long for it to become brisk. The onset of the chill will be postponed for an additional period of time thanks to the glass shower door.
A Contemporary and Sleek: Appearance Frameless glass doors, whether they are used to close off a shower or a bathtub, offer a contemporary and elegant appearance.
Reduce Your Exposure to Mold Shower: curtains provide the perfect environment for mold to grow. The soft folds are not able to be cleaned, and they are much better at retaining water than glass doors. This is a recipe for a curtain that is covered in mold, but if you have a glass enclosure, you don't have to worry about that happening.
Why should you choose to have glass shower doors installed in your bathtub?
Shower curtains make a bathroom look cluttered and unappealing. In addition, they obstruct the passage of natural light and create an unwelcome barrier to the eye. Installing glass shower doors for tubs will immediately transform the appearance of your bathroom, giving the impression that the space is more open, brighter, and cozier than it really is even if your bathroom is on the smaller side.
Different varieties of shower doors for bathtubs
Galron is an expert in the installation of shower doors. They provide customers with access to a sizable inventory of bathtub shower doors. You can also have these made to order according to the dimensions of your bathtub and the style of enclosure that you have in mind.
Shower doors are available with a wide range of glass options, three different glass thicknesses, and a wide variety of hardware in a number of different finishes. For sliding glass door installation near me contact Galron Sliding doors.
Fixed Shower Screen
There is typically only one panel on a fixed shower door; however, you do have the option of selecting multiple panels if your bathtub is open on more than one side. The panel is attached to both the wall and the bathtub.
The fact that a fixed screen can be installed on either the left or the right side of the bathtub is one of the screen's many advantages. You also have the choice of positioning the corner to the left or right. Due to the fact that it is fixed, there are no moving parts, and it is simple to put together and keep clean. To receive a price estimate, please select the dimensions of the fixed shower door, the finish options for it, and the type of glass it uses.
Metro Sliding Shower Door
If you have a small bathroom and want to be able to close off your entire bathtub but are unable to do so with a hinged or pivot door, the metro sliding door is the perfect solution for you. The panel on one side of the door is immovable, while the panel on the opposite side of the door can slide in either direction.
One of the benefits of a sliding door is that it can be frosted to provide additional privacy. You can protect the entire bathroom from splashes, and the fact that it does not take up any additional space when opened makes it an excellent choice for bathrooms with limited floor space. Prices depend on your dimensions. Order a custom design if your measurements are unavailable.
Bathtubs Equipped With Sliding Shower Doors
Sliding shower doors are the best option to go with if you want to achieve a luxurious look in your bathroom without sacrificing convenience or practicability. Double glass panels make up the structure of sliding shower doors that are designed for tubs. In order to function, the glass panels slide along a metal track. The streamlined, sophisticated, and user-friendly design of this enclosure style makes it a leading candidate for the role of best-suited bathtubs. A complete enclosure for the bathtub can be created using sliding doors. By installing sliding doors, you can separate the space occupied by your bathtub from the rest of the bathroom. You will also be able to improve the usability of the bathroom if you proceed in this manner. Sliding shower doors for tubs are an option that is not only convenient for people with mobility issues but also for children.
Bypass Sliding Doors
Both of the glass panels that make up the bypass doors are fastened to a track in such a way that they are offset from one another. To open them, the doors must first slide past one another. The fact that you can use a bypass sliding door to enter your bathtub from either the left or the right side is one of the advantages of having such a door.
Shower Enclosure Made of Half Glass for a Bathtub
A half-glass door for the bathtub shower enclosure is a newer layout for enclosures that are being used to modernize bathrooms. It is an easy and convenient way to add style to the area while also improving convenience. Half shower doors are comprised of glass panels that can be seen through and cover up to fifty percent of the bathtub. There is a good deal of room for getting in and out of the bathtub despite the fact that the glass panels are permanently installed there. Due to the lack of a door that actually opens and closes, the half-glass shower door for the bathtub is an excellent choice for bathrooms that are on the smaller side. This style of bathtub enclosure has a minimal layout, which contributes to its cost-effectiveness. There is a wide selection of designs and kinds of glass available for half-glass shower doors. Choose thoughtfully so that you can improve the overall look of your bathroom.
Doors for Frameless Shower Enclosures
Frameless shower doors, as the name suggests, are doors without frames. These doors, which are also known as trackless shower doors, are sometimes referred to as sliding shower doors. Metal clips are discretely attached to the wall in this area, and they keep these in place. In the event that the doors are able to move, a small frame will be installed to support the weight of the glass.
A trackless shower door for the bathtub has the potential to produce an aesthetically pleasing effect in the shower area. Not only that, but there is no need to worry about maintenance because it offers hassle-free cleaning, in addition to the fact that there are no frames to host the soap scum and mold growth that would otherwise occur. In a nutshell, installing a frameless shower door in your bathroom is an excellent investment that will elevate the quality of your showering experience to a new level.
Doors for Framed Shower Enclosures
A metal frame can be found all the way around the edge of the glass panels in framed shower doors. The structure can be fastened to either the wall or the tub, depending on how your bathroom is laid out. The door's robust strength is provided by its metal-framed structure, which is able to better withstand the impacts than any other type of shower door.
Hinge vs Pivot Shower Doors
A shower door that hinges open outward from the bathtub on one side, providing access to the outdoors. A shower door that pivots on its hinges provides access to the shower while allowing for full rotation in either direction. Because they take up more room, these doors function best in bathrooms with more floor space. Both of these kinds are suitable for use on the curved edges of shower stalls.
Identifying a glass's characteristics according to its type
It doesn't matter what kind of glass you go with; it can still be given specialized treatment. Because it is water and soap-scum-resistant, the additional coating helps to keep it clean for a longer period of time. Learn about sliding glass doors at menards in our next article. For glass door installation Chicago; contact Galron or for more information call us at 708-206-9646.